Vélo-Rétro Vintage Bicycle Catalog Reproductions
Over 130 catalogs and brochures from classic bicycle and component manufacturers, and cycling literature.
Updated: 07/16/2014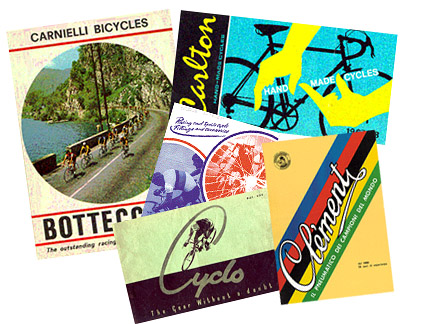 Note: These are photocopies or scans of original catalogs, they are NOT original catalogs; they are printed for you when you order (sorry, no returns). Most of the copies are reproduced in a larger format (8.5" x 11") than the original catalogs, some include large color scans of the featured model and most have color covers reproduced on heavy cover stock with clear vinyl cover sheets.
Ordering: To order, click the "Add to Cart" button and you will be taken to a Secure Site: Visa, MasterCard, Discover, American Express, and PayPal credit cards are accepted. You don't need a PayPal account to pay with a credit card through PayPal; no service fee will be charged to you, it's charged to me.
Shipping: We ship by the cheapest and most secure method and any overpayment for shipping is refunded back to you. All orders are shipped by USPS flat rate Priority envelope or USPS fixed rate Priority medium-size box. The Priority envelope is $5.60 in the U.S., $20.55 to Canada and $24.75 World Wide. Quite a few reprints will fit in a Priority flat rate envelope. Larger orders (for example, Catalogo Campagnolo will not fit in the fixed rate envelope) will be shipped in the USPS fixed rate medium Priority box. The Priority medium-size box is $12.35 in the U.S., $42.25 to Canada and $61.75 World Wide. FOREIGN ORDERS WELCOMED!

=Highly Recommended! Click on thumbnails for a larger view.


Note: The following six Ron Kitching Catalogs are very comprehensive and contain most of the desirable parts of the periods covered. Highly recommended!